Recycling Depot at the Department of Public Works is for Mendham Borough Residents ONLY.
The DPW is under 24 Hour surveillance an ID will be checked when entering the property.
___________________________________________________________________________________
NEWS and ANNOUNCEMENTS: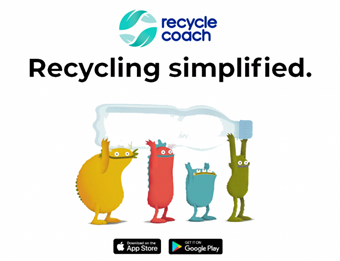 June 1, 2020 - Mendham Borough is now participating with Recycle Coach, a helpful app that connects residents to local recycling information like pick up dates, drop off events, changes in schedule, and what items are/aren't recyclable. Mendham Borough's data is now active, and the app is ready for use on your phone. Download the app from either the Apple Store or Google Play.
Have a question about what is acceptable for curbside bulk trash collection, Recycle Coach can help with that. Recycle Coach can answer your questions about how to recycle or dispose of various items.
Learn tips for how to be a more effective recycler and keep the recycling steam flowing with acceptable items. To download the app and read more please click here. Questions, please contact Public Works at 973-543-6535 or dpw@mendhamnj.org.
COVID-19 UPDATE
Please do not put gloves, masks, tissues or any other PPE in with recycling. Please dispose of these items in the trash. Thank you!
___________________________________________________________________________________
RECYCLING SCHEDULE, PICK UP and DETAILS:
Click Here for 2020 Recycling Schedule
Pick Up is Every other Thursday
For a printable 2020 Recycling Schedule click here
Guidelines: Curbside Collection of Single Stream Recyclable Materials
Place materials at curbside the night before collection day

All containers should have lids and handles. RECYCLING WILL NOT BE PICKED UP IF IT IS PLASTIC BAGS.

Containers must not exceed 50 pounds in weight.

Labeling containers is required to identify the container as recyclable material. Recycling labels are available at the Phoenix House, Bowers Building, Public Works and Mendham Borough Library.

If you have any questions, concerns, complaints (or compliments),
please call the Department of Public Works at 973-543-6535
***If there are problems with your recycling collection please call us
BEFORE 10:00 AM on the morning following collection day***
Program Description: Blue Diamond provides curbside recycling collection service for Mendham Borough residents every other Thursday. Collection does not occur on major holidays. Blue Diamond currently collects recyclables manually, which dictates a 50-pound limit on the the weight of each individual recycling container and its contents. Please use multiple containers if you have over 50 pounds of recyclables to place at the curb for collection
Schedule: Every other Thursday
Service Provider:
Blue Diamond Disposal Inc
5 Howard Blvd.
Mt. Arlington, NJ 07856
Tel: 973-598-9800 Fax: 973-598-9900
Email: custsvc@bluediamonddisposal.com
_____________________________________________________________________________________________
HARD and SOFT COVER BOOK RECYCLING:
Have books you no longer need, bring them to Public Works and recycle them in the green book bin located next to the Electronics (E-Waste) Shed. Hard and softt cover books are accepted.
_____________________________________________________________________________________________
WHAT IS ACCEPTABLE and WHAT IS NOT:
Accepted Materials
The following materials are accepted at the Recycling Center. Asterisks (*) indicate the items which are also eligible for curbside collection.
Cans*

Aluminum (soda) and tin/steel (tuna) food and beverage cans. Remove lids and rinse clean. No paint/aerosol cans, pie plates or aluminum foil. Okay to co-mingle with glass and plastic at the Recycling Center and for curbside collection.

Cardboard and Chipboard*

All corrugated paper materials, chipboard (cereal boxes, pizza boxes, gift boxes).

Glass*

Clear, green/blue & brown beverage and food containers. No drinking glasses, ceramic dinnerware, crystal, light bulbs, plate, window glass, mirrors or lab (test tubes) glass. Remove caps and neck rings; rinse clean. Okay to co-mingle with plastic and cans at the Recycling Center and for curbside collection.

Grass Clippings/Leaves

Grass clippings and leaves may be dropped off at the Recycling Center. No other lawn debris. Must bring to Recycling Center; no curbside collection.

Mixed Paper*

Newspapers, junk mail, telephone directories, catalogs, wrapping paper, magazines, books. We also accept computer paper, envelopes and card stock. Curbside collection: Place in recycling container. Do not use plastic bags, wire or tape to secure mixed paper.

Plastic*

All plastic coded #1, 2 and 5 are accepted. This includes margarine tubs, yogurt containers, juice cartons, water bottles and more containers. For plastic bottles/containers, remove caps or lids and rinse clean. Plastic bags of all types, containers that previously held petrochemicals or hazardous materials and motor oil and antifreeze bottles are not allowed. It is okay to co-mingle plastic with cans and glass at the Recycling Center and for curbside collection.


Plastic #1 (PETE) Food/Bev. Containers (Recycling - Single-Stream - All-In-One) Empty, rinse and commingle with recyclable mix. Do not put caps/lids back onto containers. Put caps/lids into the garbage.

Plastic #2 (HDPE) Bottles (Recycling - Single-Stream - All-In-One) Empty, rinse and commingle with recyclable mix. Do not put caps/lids back onto bottles. Put caps/lids into the garbage.

Plastic #5 (PP) Food/Bev. Containers (Recycling - Single-Stream - All-In-One) Empty, rinse and commingle with recyclable mix. Do not put caps/lids back onto containers. Put caps/lids into the garbage.
Poly board/Drink Boxes (Recycling - Single-Stream - All-In-One) Empty and mix with other recyclables.
Shredded Paper (Recycling - Single-Stream - All-In-One) If recycling shredded paper with in the MCMUA's "all-in-one" single-stream recycling collection program, the shredded paper must be put into a translucent or clear plastic bag and the bag must be tied closed.
Steel (Tin) Containers (Recycling - Single-Stream - All-In-One) Empty, rinse and commingle with recyclables. Aerosol cans must be empty. Remove plastic cap/lids, and put them into the garbage.
Telephone Books (Recycling - Single-Stream - All-In-One) Also include paperback or softcover books. Do not include hardcover books.
NOT Accepted Materials
| | |
| --- | --- |
| | Poly(vinyl chloride): Pipes, shower curtains, meat wraps, cooking oil bottles, baby bottle nipples, shrink wrap, clear medical tubing, seat covers, coffee containers. |

Plastic #4 (LDPE): Food/Bev. Containers
| | |
| --- | --- |
| | Polystyrene: Coffee cups, disposable cutlery and cups (clear and colored), bakery shells, meat trays, "cheap" hubcaps, packing peanuts, Styrofoam insulation. |
Plastics coded #3, 4, 6 and 7 can be disposed of in the trash.
The majority of materials not accepted at the Recycling Center may be brought to the Mt. Olive Transfer Station on Gold Mine Road. You will need to call and make a drop-off appointment with them. If generated in Morris County, this material is required to go to the MCMUA transfer station if it is being disposed of. Hazardous and non-hazardous waste, regulations, special handling and fees are explained in detail on the Morris County Municipal Utilities Authority (MCMUA) web site. If you have questions about household hazardous waste disposal, call the MCMUA at 973-829-8006. Note: there is a small fee to drop off some materials and payment is required by check, not cash or credit card. In addition, the MCMUA holds three household hazardous waste and computer/TV disposal events during the year. Check its web site for dates, times and places.
Ineligible Materials
Items not recycled; dispose of with your regular trash.
alkaline batteries

window glass

mirrors

vases

ceramics

dishes

flower pots

beer & wine caps

drinking glasses

light bulbs

headlights

aluminum foil

pie plates

oven cookware

Styrofoam

plastic #3, 4, 6 and 7

plastic bags

motor oil containers

antifreeze containers

gasoline containers

kerosene containers

latex paint
Please note, the following types of containers must be completely empty before being disposed of: motor oil, antifreeze, gasoline, kerosene and latex paint.
_____________________________________________________________________________________________
RECYCLING DEPOT:
In addition to the curbside recycling program, residents can bring newspaper, mixed paper, cardboard, plastics (Coded #1, 2 and 5), and alum. cans to the Public Works Facility at 37 Ironia Road during business hours. Blue Diamond has provided the Borough with two large dumpsters to be used for newspapers, mixed paper, cardboard, cans, and plastics. The dumpsters will be available Monday through Friday 7am to 3:30pm and Saturdays from 8:00am to 3pm. All items should be thoroughly cleaned to prevent contamination. All caps/lids should be removed and disposed of in the garbage. No plastic bags should be placed in recycling (exception is plastic bags containing shredded paper).
_____________________________________________________________________________________________
LATEX PAINT:
Latex paint is not considered a hazardous waste, nor is it recyclable. It may be disposed of in one of two ways:

If there is little paint left in the cans, open them and let them dry completely. The empty cans may then be thrown out with your regular trash. There are products on the market that will speed the drying process. You can also mix the leftover paint with kitty litter and put into a plastic bag. Mixture must be almost solid.

If you have a lot of leftover paint, you may bring it to the Mt. Olive Transfer Station on Gold Mine Road. A hazardous waste handling fee of $1.25 per pound is charged for latex paint. Latex paint will not be accepted whatsoever during one-day hazardous waste disposal events.
_____________________________________________________________________________________________
HELPFUL LINKS:
_____________________________________________________________________________________________
CURBSIDE SOLID WASTE (Garbage):
Mendham Borough does not provide garbage pickup. It is up to each resident to contract with a private hauler that will collect and dispose their waste. The municipality does not pay for the tipping fees.
Schedule: Contact the Hauler for more information.
Some Service Providers in the Mendham area:( For information on more private waste haulers consult the local yellowpages)
Blue Diamond Disposal Inc
5 Howard Blvd.
Mt. Arlington, NJ 07856
Tel: 973-598-9800 Fax: 973-598-9900
Email: custsvc@bluediamonddisposal.com
www.bluediamonddisposal.com/

Waste Management of NJ
Lafayette , NJ
Tel: 973-383-7480 www.wastemanagement.com

Legacy Services, Inc
Website: www.legacyservicesinc.com
Email: legacysrv@gmail.com
Office: 908-200-7345
_______________________________________________________________________________________
:BULK TRASH
Mendham Borough provides Curbside Bulk Waste Collection
Click here for more information
Schedule: Available every Monday.
Service Providers:
Blue Diamond Disposal
_____________________________________________________________________________________________
ADDITIONAL HELPFUL LINKS:

Morris County Municipal Utilities Authority
http://www.mcmua.com/
Morris County's Environmental Guide
http://www.mendhamnj.org/documents/Morris%20County's%20Environmental%20Guide.pdf
Morris County E waste Brochure
http://www.mcmua.com/materialdetail.asp?MaterialID=41
Alternate recycling outlets
http://www.mcmua.com/WasteReduction/index.htm
NJ E Waste
http://www.nj.gov/dep/dshw/ewaste/index.html

Call2Recycle - Rechargeable Battery and Cell Phone Recycling Locations
http://www.call2recycle.org/home.php?c=1&w=1&r=Y
How 2 Recycle - https://how2recycle.info/